Cats absolutely love napping. As a matter of fact, they can nap for an average of 15 hours a day. What lucky little felines!
However, when it comes to settling on a favorite spot, your cat may wander aimlessly around the house only to end up picking the TV shelf or worse, your bed.... *Gasp*!
That's why this nifty cat hammock, with six industrial strength suction cups, is perfect if you want to pamper your little feline. It doesn't take up much space. You can hang it on the window pane, right on the sunny spot. The suction cup is quite strong and can support up to 55 poundsfoldable and washable.. Plus, it's easily foldable and washable.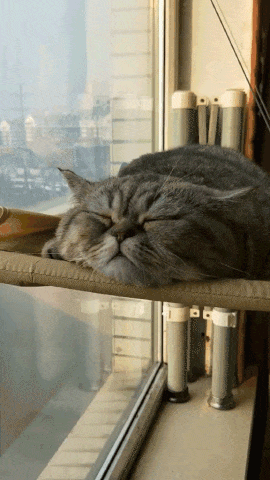 A Safe Place: The strong suction cups are reliable and give you the freedom to choose where you want your cat to hang out. You can create a safe spot for your furball effortlessly. The unit can be assembled and disassembled in a snap.
Easy to Install: If you're the traveling type, this form of hammocks is perfect for your lifestyle. No tools or straps are required for installation. Simply assemble the hammock and attach it to a window, and you're done.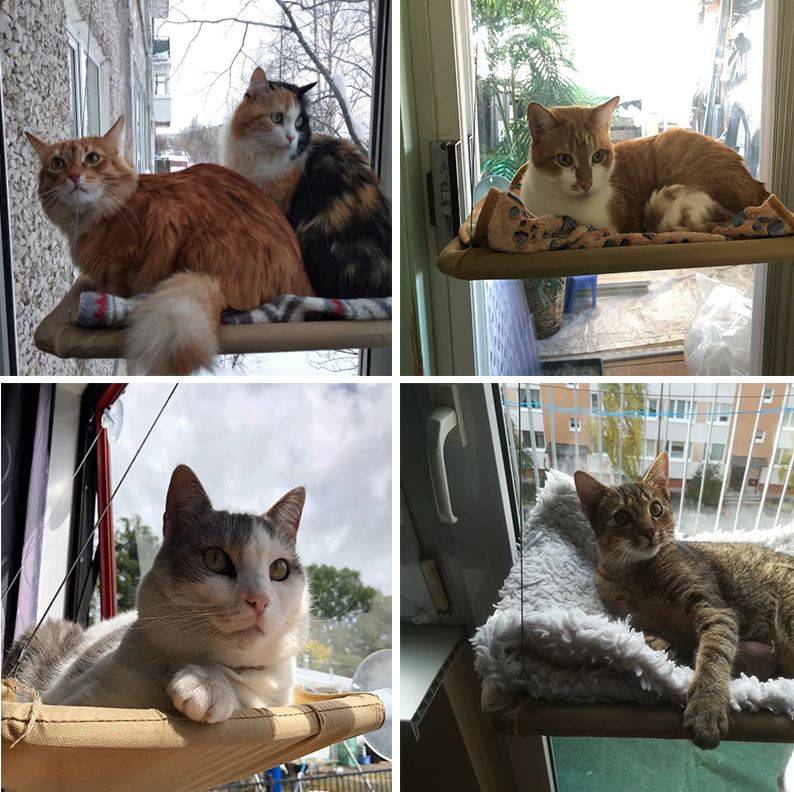 Built to Last:

 

The hanging window catperch mat is made of oxford cloth, which is easy to clean, breathableand durable, and the cat's bodytemperature won't overheat in summer. Adding a mattress on this cat hammock isa great choice for winter cat to napper in the sun.
All-Seasons Design:

 

You can use this hammock all year round. The mesh material makes it breathable, and in the winter, just add a mattress and you're good to go.
Space Saving

:  

This window cat shelf provides your cat enjoya front view of naturewhile baskingwithout taking up valuable floor space. Perfect match gives your catscomfortable and a fun seat in the house keeping your cat healthy.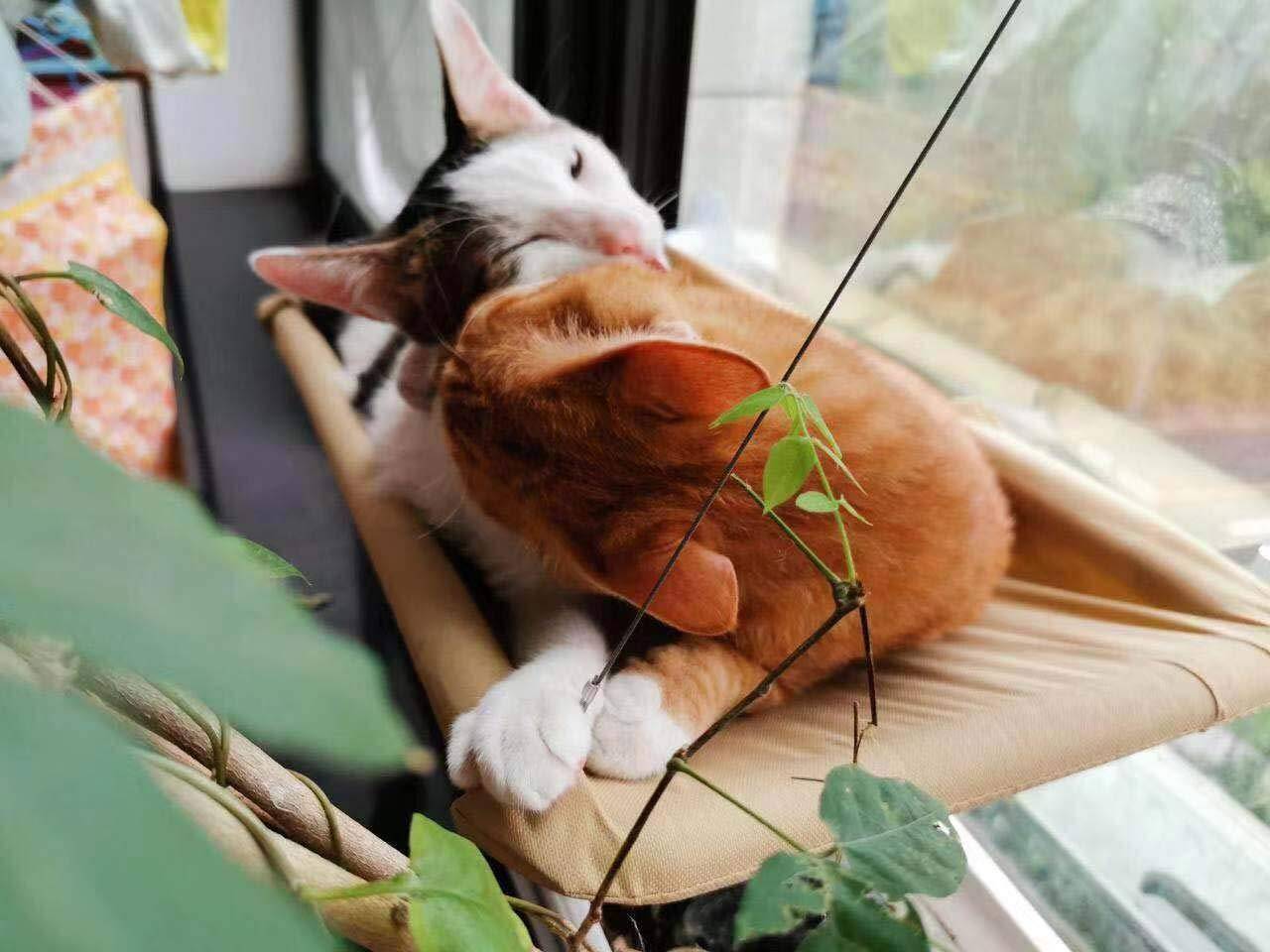 Specifications:
Material: Cloth Cushion + plastic suction cup + steel wire connection
Bearing Weight: 20kg
Size: 55*35cm
Weight: About 590g
Shipping
COVID-19 Delivery Information
In response to COVID-19, all our carriers are taking precautionary measures to ensure the health and wellbeing of their drivers and our customers.
Please be assured that all our carriers are following the advice and guidelines from the government and that the safety of everyone is our priority.
There is currently no impact to our delivery services at this stage, however we encourage all customers to use your home address for delivery.
Moving forward all carriers will operate a contact free delivery service which means that you won't be required to sign for any parcel that's delivered.
You can see all carrier guidelines and measures upon visiting the nominated carrier website, emails will be provided upon dispatch to confirm delivery information.
We hope that you understand and appreciate the measures that have been implemented are to protect you and ensure we can continue operate as normal.
All orders are processed within 1 to 2 business days (excluding weekends and holidays) after receiving your order confirmation email. You will receive another notification when your order has shipped.
Domestic Shipping Rates and Estimates
We offer free shipping to USA
Shipping Country

Estimated delivery time

Price

USA

5 to 8 business days

 

FREE
How do I check the status of my order?
When your order has shipped, you will receive an email notification from us which will include a tracking number you can use to check its status. Please allow 48 hours for the tracking information to become available.
If you haven't received your order within 10 days of receiving your shipping confirmation email, please contact us at contact@revvell.com with your name and order number, and we will look into it for you.
To track your order please click here
Shipping to P.O. boxes
Some carriers have limitations around shipping to P.O. Boxes. If one of your carriers falls into this group, you should look up their policy and communicate it to your customers here.
Refunds, returns, and exchanges
We accept returns up to 30 days after delivery, if the item is unused and in its original condition, and we will refund the full order amount minus the shipping costs for the return.
In the event that your order arrives damaged in any way, please email us as soon as possible at contact@revvell.com with your order number and a photo of the item's condition. We address these on a case-by-case basis but will try our best to work towards a satisfactory solution. Check our return policy here
If you have any further questions, please don't hesitate to contact us at contact@revvell.com.
Returns & Exchanges
Please find below an overview of our most frequently asked questions regarding the return policy with the answer. Is your question not in below list? Feel free to contact us at contact@Revvell.com
How do I place a return or exchange?
We're sorry you didn't love your Revvell. Please reach out to contact@Revvell.com with your order number and the products you'd like to exchange or return, and we'll take care of the rest.
Help! I can't find my return slip.
Don't worry— Revvell packages don't include return slips. Just reach out to contact@Revvell.com and we'll help you place your return or exchange.
What's your return policy?
All returns must be processed within 30 days of receiving the order.
To place a return, or if you are having trouble making a return within the 30 day timeframe, please reach out to contact@Revvell.com.
Order # must be provided to place a return, and you will be refunded in full to your original form of payment. Please note, your original shipping charges are not refunded.
How long does it take to process a return?
Credit card refunds usually take 5-10 business days to appear on your statement.
What should I do if I receive the wrong product?
If you received a product different from the one that you ordered, sorry about that! Please contact us at contact@Revvell.com and we'll be sure to get you the Revvell you ordered!
What's your return process if i'm not happy with the product?
Yes within 30 days after receiving your package. Here are your packing instructions:
Securely pack the items in a box.
Affix the mailing label squarely onto the address side of the parcel, covering up any previous delivery address and barcode without overlapping any adjacent side.
Use the address listed and affix the appropriate amount of postage.
Ship package from your nearest post office or shipping company of your choice.
If you did not receive a return label please send an e-mail to contact@Revvell.com
Please note! If you have received a faulty product, it is important that you send an e-mail to contact@Revvell.com before returning your order.
We will then be able to help you with the returns procedure and find an appropriate solution.
NOTE: If your order has not been purchased via www.Revvell.com the return policy applied of the shop where you did purchase the product.
Recently Viewed Products
You can stop autoplay, increase/decrease aniamtion speed and number of grid to show and products from store admin.